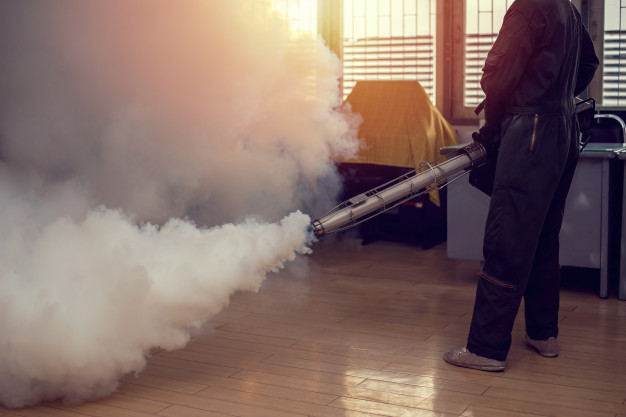 Pests are the carrier of harmful diseases. Additionally, they can even damage your valuable furniture, contaminate food items, and infect other home essentials as well. So, it can be stated that pests and rodents are a threat to every household in Dubai. 
Thus, it becomes essential to get the best pest control services in Dubai. Because they can efficiently eliminate every kind of pests and insects from your house. And, we have collaborated with the top-rated pest control service experts who will provide you with a healthy and pest-free environment with their immense skill and expertise. 
Moreover, the pest control specialists have obtained several training sessions to offer you prompt service. Additionally, we use the latest technology to put an end to all your pest related problems. Get guaranteed and assured solutions only by engaging with us. 
Pest Control Services We Provide
Urbanclap offers a wide range of pest control services in Dubai. And, we offer our service in every region of Dubai. So, no matter where you live, you get on-time and high-quality service from our professional team. 
Moreover, before you book an appointment with us, make sure you have chosen the right service package to prevent the pest infestation in your house. 
Pest We Deal with
Every pest can be controlled with adequate treatment. And, our knowledgeable pest exterminators can eliminate every type of pest, rodents and termites. Simply, search "pest control near me" and get rid of the pest problems easily. 
Bed bugs
A bite from a bed bug is very harmful and it can cause severe allergic reactions. So, let our professional exterminators intervene in the entire matter. They will effectively remove all the bugs from your house using proper non-chemical products. 
Cockroaches
Every species of cockroach carries harmful pathogens. And, they are mostly responsible for health diseases like diarrhoea, plague, typhoid fever, etc. So, it is suggested to get hold of our expert to keep your house cockroach-free. 
Termites
Like other pests, termites are also equally harmful and they have the potential to cause structural damage. But, with the right pesticide implementation can lower down the termite infestation and protect the wooden structures as well. 
Rodents
Rodents are found in almost every house in Dubai. They can cause serious destruction to furniture and food items. So, safeguard your property and family members from rodents, join with our premium best pest control in Dubai 
Services offered to Eliminate the Pest
Major and premium pest control services that we provide to the natives of Dubai. 
Pest Extermination service
Food resources attract the pest most. Be it a rodent or an ant or cockroaches, they always look for food and they can easily enter your house from the cracks, leakages, or even through a small hole in your house. 
But, with our pest extermination service, eradicating the pest infestation has become easier. Moreover, our pests control specialist uses the latest eco-friendly insecticide sprays, so that we can safeguard you and your family members from the effects of hazardous chemicals. 
Pest Removal Service
At times, sprays won't help you to eliminate the pests from your house. Because there are several critters like raccoons or snakes, they can make a space even in the nooks and crannies of your house. 
Thus, Urbanclap offers a supreme quality pest removal service to resolve such complex problems. You get the best pest treatment deal. So, let our professionals intervene and take control of the entire pest control process. 
Pest Preventative Service
The best and most possible way to control pests is by preventing them from entering your house. And, for that, it becomes crucial to locate their point. Hence, we are here to assist you with world-class pest prevention services.
The professionals will cover or fill the entrance so that you can live a pest-free life. Furthermore, the pest can again enter from somewhere else. So, we make sure all the accessible entry points are scrutinized properly. 
Why Choose Our Service Platform?
We are one of the recommendable names for providing cheap pest control Dubai. Additionally, we got outstanding feedback and rating from our customers who received an effective pest control Dubai cockroach service. 
Get rid of the ants, bed bugs, flies, termites, and other crawling insects by just scheduling a service plan with us. 

Hygiene matters the most for better sustainability. And, with our guidance, you get to eliminate the harmful pest from every corner of your house. 

Moreover, we take minimal pest control Dubai price to protect your entire house against pest infestation.

Additionally, our top-rated professions are helping customers for more than a decade. 

We have experience in working with several restaurants, breweries, bars, factories, commercial places and in residential buildings as well.

Besides, you get consistent behaviour from our support team. They are available round the clock to sort all your queries.

Starting from inspection to identification to analysis and treatment, they cover a wide area of pest control in Dubai. 

You get potential pest control Dubai service from a certified, veteran, authorized professionals who always put the customer's requirements first. 
Get in Touch with us for Further Guidance
A routine inspection is needed to eliminate the pest from your house completely. So, schedule a maintenance plan with and get high-end outcomes in controlling the pests. 
Additionally, the professionals will check for the possible areas of your house like bathrooms, kitchen, storage areas, and every edge to reduce the number of pests. So, call us right now at 042480525. Additionally, you can drop an email at our official email address [email protected].
Frequently Asked Questions 
How much is Pest Control in Dubai?
It won't cut a hole in your pocket to eliminate the pest from your house, office, or commercial centers. And, the entire cost of service will depend on the size of the place. So, safeguard your valuable assets from getting damaged by just joining Urbanclap. Get guaranteed pest treatments and prevention solutions from the best pest control experts in Dubai. 
Is pest control safe for humans?
There are some pesticide or insecticide that are quite harmful to humans, especially for children. Additionally, these chemicals can cause serious damages to one's health. That's the reason why we only implement ecological sprays and products for controlling the pests. Additionally, we incorporate all safety measures while performing the entire job. 
How often should you do pest control?
We would recommend you to avail the pest control service every two months. Because eliminating pests like ants or bugs can be troublesome at times. These insects can even make their way to your house, after eliminating them in the first place. Besides, pest infestation requires continuous treatment to get the situation under control. 
Do I need to leave the house for pest control?
Fortunately, you don't need to leave your house during the pest extermination process. Because we use non-chemical products that won't affect your family or employees. We have always put our customer's safety first. So, it is always advised to enter a building after an hour if chemicals are used for pest extermination.
What are the 3 methods of pest control?
There is a vast array of pests control methods. But, among them, 3 essential methods implemented in every pest control service include, biological pest control, mechanical pest control and the other one is field burning method. 
What time of day is best to spray for bugs?
Insects like bugs are mostly seen during the daytime. They are the most active insects that you will probably find in the morning. So, to prevent them, it is essential to apply non-hazardous sprays during the day time only. And, our professionals mainly check all the areas of your house to keep aside all the bug-problems.
What time of year is best for pest control?
There is no such proper timing to avail of pest control service. You can opt for pest control at any time of the year. But, it was most likely seen that, from March to August, the pests problems increased. So, book our service and get a premium pest control inspection done within an affordable range. 
What is the most common method of pest control?
The chemical control method is mostly used to eradicate several pests from your house. And, during this process, pesticides are used to control the pest and insect infestation. But, based on the type of pest, the pest control method might vary. Because several pests require distinctive treatments.