Have you recently shifted to Dubai? Looking for best Plumbing Services Dubai provider for any plumbing unit installation? Now, you can easily avail a premium service within a few clicks. Plumbing works are something that seems strenuous when there is an absence of adequate plumbing skills, experience, and knowledge. 
Imagine a scenario where you thought that the water leakage problem is probably associated with the recently installed faucet. So, you intervene in the matter to replace the leaky compression of the faucet, but it turned out to be a major issue. This will ultimately lead to other plumbing-associated problems. Unlike handling other household chores, the Dubai residents have nowadays refraining themselves before engaging in plumbing work. Simply, considering an experienced Dubai plumber will be beneficial in this regard.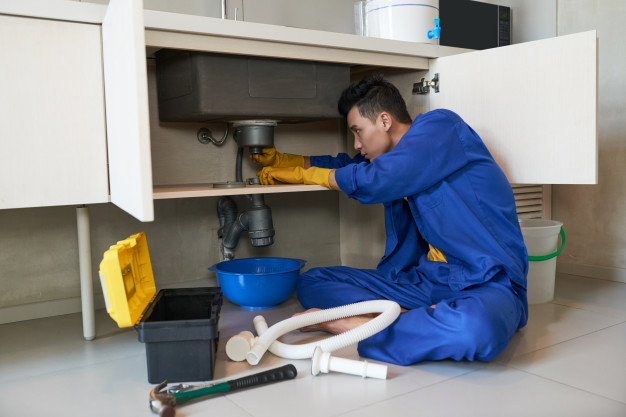 Urban Clap, being one of the renowned plumbing services Dubai providers, renders impeccable assistance to every customer. Moreover, we maintain persistent and professional behavior when it comes to mitigating the plumbing requirements. 
Be it Water heater leak fix or fridge installation & fixing, our professional team can easily deal with every plumbing-related work. Book an appointment with Urban Clap to prevent the leakage or breakage-associated problems now!
Trusted & Professional Plumber Services in Dubai UAE
A functional plumbing system is the most important aspect of any building, whether you count the drainage or water supply pipes. So, it's wise to not take any chances and book plumbing services Dubai in case of any damages. Additionally, it's important to trust the right plumber in Dubai to get an uninterrupted water supply.
On the other hand, plumbing accidents, such as broken faucets, clogged drains and toilets, are quite inevitable. Therefore, you might be looking for a trusted plumber service in Dubai who can serve you the best during emergencies. Get all-in-one Best plumber services near me with none other than urbanclap.
urbanclap brings you the opportunity to address plumbing problems that can disrupt your daily lifestyle. Our well-equipped plumber team will reach you as soon as possible. All our plumbers have been in the industry for decades, and you can expect only the best fixes from them. Be it your kitchen, bathroom, garden, toilet, or pool, our professionals can handle everything.
Keep up your plumbing fixes and installations seamless with dedicated plumber near me. Get supervised plumbing services in Dubai from urbanclap and that too at competitive prices. Contact our plumber Dubai team to get long-lasting plumbing solutions for your home, office, warehouse, or any property.
One-Stop-Destination to Accomplish a Wide Range of Plumbing Works
We, at Urban Clap, believe in potentiality, reliability, and rigid commitment. Moreover, we have teamed up with the top-ranked plumbers in Dubai, who strive for excellence when it comes to bathroom accessories installation. Whether you have shifted into a new apartment or want to opt for bathroom renovation, our professional plumbers are there to offer you the best assistance. 
Simply, search "plumber Dubai" to reach us. From there, choose the type of service you are looking for. Don't forget to mention the plumbing services that you want to avail right now. Because Urban Clap renders a plethora of advantages and services to the customers to make your life easier. 
Plumbing Services Dubai, Urban Clap Provides
Urban Clap has acquired a vast reputation and world-wide recognition for being one of the high-rated plumbing services Dubai companies. Moreover, our plumber in Dubai is capable of withstanding every sort of obstacle or problem, irrespective of its condition. They have been provided with monthly training sessions to handle the difficult plumbing works including Extend water connection and toilet fixing tap leakage. 
Whether it's a clogged drain opener or drainage pipe fixing, it is crucial to hire a plumber in Dubai as soon as you detect the problem. Since water or drainage system problems can cause substantial property damage, it should be repaired or replaced within the least amount of time. Therefore, Urban Clap offers on-site and emergency plumber Dubai services. Before you book our service, here is the vast range of plumbing services that we primarily offer.
Wide Range of Plumber Dubai Services We Offer
Atdoorstep is the one-stop shop for any plumbing repair and installation. We are serious about our commitment to our customers. We take care of service quality and potential reliability so that you can get the maximum benefits from our specially curated services.
On the other hand, we have teamed up with the highest-ranked plumber near you. So, you can expect the best-assured cheap plumbing services in Dubai. Whether you are up to some new plumbing installation at your new apartment or a bathroom revamping, we got you covered.
Just search for plumber services near me and opt for our ultimate plumbing solutions. We understand that one cure doesn't fit all, especially in plumbing. Thus, we have categorised our entire plumbing initiative into flexible categories. From fixing minor leaks to opening up a clogged drain, you can get outstanding plumbing support from Atdoorstep.
Let's take a look at our specialised plumbing services Dubai before you decide on what to book for today:
Bathroom Accessories Installation
Are you looking forward to a bathroom renovation? Whether it's a bathtub or a jacuzzi in your mind, you will require the finest plumber Dubai to get it executed. Otherwise, you might not get the desired temperature while taking a cosy shower at the end of the day. 
Let the experts help you with the water heater, faucet, showerhead installation and much more. Deal with complicated bathroom installation and fixes with Atdoorstep's plumber services near me.
Our plumbers offer a vast array of installation services for bathroom accessories. In addition, they sincerely check the sewerage and drainage systems so that you can get an unfailing experience. All our plumbers are experts in fitting sanitary equipment. Hence, hire our plumbers near you for any type of plumbing installation for your bathroom or toilet.
Kitchen Accessories Installation
Besides your bathroom, your kitchen also requires plumbing accessories. For example, you might need to install a dishwasher. Or, it can be your kitchen sink that requires an immediate replacement. Whatever the installation requirement is, call our emergency plumber in Dubai to get impeccable services at affordable deals.
We provide you with kitchen plumbing installations that match your vibes. Our plumbers pay special attention to pipe and sewage systems while installing dishwashers and other appliances. So, get in touch with Atdoorstep emergency plumber near me Experts for hassle-free plumbing services Dubai.
Leak Fixes
A leaky or drippy faucet might not appear to be a big problem. However, it can escalate your energy utility bills. On the other hand, leaking water from pipes can result in unhygienic means, especially if you use tap water as drinking water. In addition, the dripping water can damage your walls. 
Worse, it can seep through your basement if you don't handle it early. As a result, it can exploit your property gradually. Additionally, you can imagine how insane it will be if there's a leak in your toilet. Don't take any risks when it comes to leaky faucets, pipes, and toilets. 
Therefore, contact our plumber services near you. They offer proven fixes and repairs for any sanitary fitting leaks. Our plumbers can handle both the leak and the mess carefully for you. Therefore, reach our plumbing services in Dubai experts for a swift and effective solution at any time.
Clogged Toilet Repair
Flushing out non-flushable items into toilets is the primary reason behind clogged toiletries. Whether it's a clogged drain line or a not-so-powerful toilet flow, our plumbers can fix anything. Perhaps, the water tank can't hold sufficient water, and that's why it can't flush thoroughly, and your toilet remains clogged.
However, get rid of a clogged toilet easily with our committed plumber services near me. Our professionals can deal with clogged drain lines, hard water build-up, faulty toiletries, and much more. In addition, they will pass on a few suggestions regarding how to flush your toilet properly to prevent it from unnecessary clogging. 
So, avail our plumber Dubai near me services if you want to avoid toilet breakdown and other miserable consequences.
Plumbing Equipment Repair
Is your faucet dripping? Or, is it the water heater that's bothering you? Whatever the plumbing equipment is, call our plumber near me. It can be a worn-out washer, a corroded valve seat, or a loose O ring that can lead a faucet to drip continuously. On the other hand, mineral build-up, a leak in the pipe, low supply, incorrect water pressure, etc., can interrupt your water heater's efficiency. However, it can be any plumbing equipment that needs repair at your house or office.
Don't freak out as we offer same-day repair for such plumbing components. Our plumbers repair damaged or loose valves in those sanitary fittings. Additionally, they clean the equipment with approved cleaning solutions and materials. So, repair your faucets, showerheads, kitchen sinks, water heaters, dishwashers, pumps, filters, chlorine generators, and more with our committed plumber in Dubai.
Pipe Cleaning
Can't you flush the garbage disposal, or is water not passing through the sink? All this can indicate that the drainage pipe might be accumulated with dirt, dust, and grime. After all, you drain out detergent, food items, and more through your kitchen sink. The same applies to all the drain lines connected to the bathroom and toilet.
They require frequent cleaning services so that the drains remain clean and flowy. Additionally, it reduces the chance of clogging and blocking. We offer both pipe and drain cleaning services with effective tools and technologies. Moreover, all our plumbing cleaning services are human and pet-friendly.
We understand that pipes carrying water all around your property can get dirty and grimy, too. So, consider pipe cleaning services from our plumbing services in Dubai. Reach our plumber in Dubai and get your plumbing insecurities resolved within no time.
Sewer Line Repair
Are you sure that your toilet is working fine? Well, it can be the sewer line that might be clogged or blocked with debris, grease, fat, tree roots, and more. That's why you might be noticing slow draining all over your property. What's the solution for this?
Consider an efficient sewer line repair and cleaning from Atdoorstep's plumber Dubai team. We offer instant solutions to handle the clogged drain and its unusual odour. Retain your highest satisfaction with our committed plumber services near you.
Plumbing Maintenance
Maintenance all around the year can save you from unnecessary plumbing breakdowns. Additionally, you can save up on plumbing repair services. Go for our plumber in Dubai marina for the best relieving experience. Our dedicated plumbing inspection services offer status checking and minor repairs.
Whether it's a water heater, dishwasher, showerhead, pump, filter, or drain line, get a comprehensive plumbing inspection for your property. This makes sure that your plumbing system won't fall out unexpectedly. 
After inspection, our professionals will present you with an estimate if any of your plumbing equipment requires any repair or replacement. Thus, safeguard yourself and your family from witnessing major plumbing breakdowns with our dedicated plumbing services near me.  
Criteria that has made us one of the Top-Leading Companies in Dubai
Urban Clap, being one of the best home-based online marketplaces, can explicitly enhance the overall life expectancy of the plumbing units. And, plumbing problems are something that will eventually develop due to the lack of inspection. Thus, our team of professionals is available round the clock to repair or install the plumbing units. Moreover, we only cater to premium quality and exotic plumbing products to increase property value. 
How does Our Plumbing Services Dubai Work?
Urbanclap takes pride in providing high-quality plumber Dubai marina services at nominal prices. We have made sure that everyone can easily request service logs in just 3 steps. 
If you are interested in scheduling an appointment with our plumber near me services, then here's how you can get one:
Report Your Concerns to Our Professionals
Call our skilled and qualified plumbers to share your plumbing worries. Simply install our ADS app on your smartphone and navigate to the plumbing services Dubai section. Select the service you need or schedule a service at your convenience. 
Talk to an Expert
Once we receive a service request from you, we will assign a plumber near you. The professional will inspect the plumbing repair or installation. Discuss with our plumber Dubai team to get the best plumbing benefits.
Get the Job Done
After inspection, our professionals will provide you with an estimate that will mention the time and cost required. Everything will be transparent, and there's nothing such as a hidden charge with urbanclap. Enjoy uninterrupted plumbing service in Dubai from Atdoorstep.
Why Should You Choose Our Plumber Dubai Expertise?
Plumbing installation and repair services are more than a DIY project. A moment of carelessness or missing out on a single detail can escalate risks of plumbing fittings and sanity. Therefore, it's better to trust a certified plumber Dubai company to repair or install plumbing essentials. 
Urbanclap offers you incredible plumbing solutions with the following potential advantages:
Qualified Plumbers  in Sharjah and Dubai UAE
We have partnered with only skilled, professional, and experienced plumbers across Dubai. Thus, they can serve you with the best knowledge and expertise. Get uncompromising plumbing solutions and assistance from urbanclap.
Rapid Response
We value your concern when it comes to plumbing repair issues. Be it a clogged toilet or a leaking faucet, our plumber near me will reach you as soon as possible. We allocate our experts in a way that you can get immediate repair and installation services.
Genuine On-Site Repair
Are you looking for trustworthy plumber services near me? Urbanclap heard you, and now, you can address all your plumbing issues with our services. Our plumbers carry the best-quality tools and repair parts for repair and replacement services. 
Warranty on Repairs
Our plumbing experts offer a warranty on repair and replacement. We prioritise your satisfaction throughout our plumbing services in Dubai. Thus, you can get the fastest plumbing services Dubai from the comfort of your home. So, hire our plumber near me team and experience a stress-free plumbing service.
Affordable Rates
Urbanclap is careful while setting prices for definite services. Similarly, we have kept our plumbing services Dubai highly reasonable. Avoid expensive repair costs with our plumber in sharjah, Dubai team.
Hire Atdoortsep's Plumber Service Dubai Team Today 045864033
What are you waiting for? Atdoorstep brings you a vast array of plumbing services at a minimal price. Additionally, there's no need to compromise repair quality. Get your plumbing issues resolved instantly with our diverse plumber  in sharjah Dubai services.
Call us to book a service. Otherwise, install the ADS app and choose the service you want to get. The ADS app is now available for both Android and iOS devices. For more information, contact our customer support team.
We Also Serve Locations:
FAQs of Plumbing Service